"360° elegance live" – kinetic jewellery at boot 2011
Duesseldorf, Exhibitions | geschrieben am Thursday 6 January 2011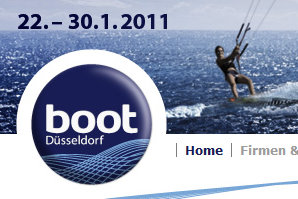 "360° elegance live" is the new motto for Hall 6, the international marketplace for comfort and luxury yachts. These are and remain the hallmark of boot Düsseldorf. Otherwise only encountered in exclusive yacht harbours, at boot these models can be viewed in a unique indoor atmosphere. The exhibitors in this high-calibre segment appreciate the location of the Düsseldorf trade fair as an ideal meeting place to keep in touch with existing international customers as well as to win new ones – from all four points of the compass.
Exclusivity in Hall 6
For boot 2011 this hall was redesigned in order to reflect visitors' wishes for exclusivity, comfort and lifestyle and to provide the perfect setting for the exhibitors to host their customers. On an exhibition space of some 600 square meters, a spacious and stylish business and shopping area will be created with excellent catering facilities, boutiques and lounges for meetings and negotiations.
Thats where you will find my exclusive Michael Berger – Kinetic Jewellery Shop – right within the shopping area of the Blue Motion VIP-Lounge in Hall 6.
Look forward to seeing you at boot 2011, 22th – 30th January 2011, Duesseldorf Exhibition Centre, Hall 6, Blue Motion Lounge.
Diese Nachricht ist auch abrufbar in: German